Synology DS Photo+ corrupts slow motion video uploads
Do you have a Synology NAS ?
Do you have an iPhone/iPad ?
Do you use DSPhoto+ to upload your photos to your NAS ?
If you answered yes to the above questions, then you should know something that Synology does know but does not care or even warn about:
You may loose all your slow motion videos !!!
Version used: DS Photo+ 4.6-238
This problem is noticed by a few customers in Synology forums here.
One user states on Apr 27, 2015, that "I contacted to technical support and they told me that there will be a new release solving it."
What Synology did until July 2015 ? NOTHING!
This means, that customer data and customers are no value to this company, whose main products are targetet at storing customers data.
This is what you will see instead of your slow motion videos, after you uploaded them to your NAS via their DSPhoto+ application:
You will see that your video won't play, only small thumbnail is shown, the file has a size of ~175kb and no duration is shown under Informations tab.
This is the second time I am loosing precious data, after encountering loosing folders on Synology NAS problem just last year.
UPDATE
Seems they silently and incompletely solved the issue. I just updated to latest 4.8.1 version.
I just updated the app to version 4.8.1 (2015/08/20) and I see it was solved partially.
But not all people update every day!
It would have been nice to have a notice in DS about such a big issue.
But no, they don't even mention it in the What's New section.
Still, just now with the latest 4.8.1 version of 2015/08/20, I've made a slow motion video. The complete file is uploaded, but..
Look at the reported file size in the Photo Backup section: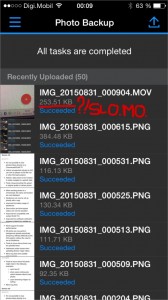 211kb ? smaller than a screenshot PNG file! While the uploaded file is 31MB..
What's even more intrigating
What's new section content:
In the version 4.7 they mention:
Slow-motion and time-lapsed videos can now be uploaded
Really ? And you are saying this just now ? Why don't Synology say that until now they were uploading corrupted, and the user was not even warned about ?!