SONY DSC-V1
Digital Camera
Description
The Sony DSC-V1 Digital Still Camera was built for a special class of photographer who wants ultimate control over the picture-taking process, but also wants the option to call upon automatic features to help balance light and exposure. Barely larger than a deck and a half of cards, the Cyber-shot V1 camera offers a 5 Megapixel imager and a Carl Zeiss Vario Sonnar Lens with 4x Optical Zoom along with Nightshot and Night Framing features for taking crisp pictures in low or no-light conditions. A Program-Shift Dial allows users to select from a range of available combinations of aperture and shutter settings for control over motion and depth of field while remaining in automatic exposure mode. The High-speed USB 2.0 connection makes downloading the photos faster than ever.
Specifications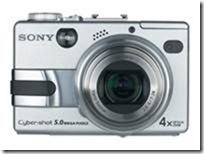 The body is made of magnesium alloy. It has a 5.0 megapixels effective resolution (2592 x 1944), lower resolutions including 2592 x 1728 (3:2), 2048 x 1536, 1280 x 960 and 640 x 480 and it has the ability to produce movies: 640 x 480, 16 fps, 160 x 112, 8 fps, All with audio. The recorded material length is limited only by the storage media capacity.

Storage is provided by Memory Stick, Memory Stick Pro and it comes by default with a 32 MB Memory Stick included. DSC-V1 is one of the first new Sony digital cameras to support the new higher capacity Memory Stick Pro (available up to 1 GB per Stick) as well as existing Memory Stick media.
It comes with a 1.5" TFT, 123,000 pixels, anti-reflexive treated surface and bright backlight, which covers 100% of the scene.
Autonomy is provided by a Lithium-Ion InfoLithium NP-FC11 that you cand charge using the supplied AC adapter / charger.
It has internal flash with three levels of power and provides a hot-shoe for connecting an external flash with ACC terminal.
The dimensions are shown in the picture below. As you can see, this is the smallest professional high-quality compact digital camera form Sony until today.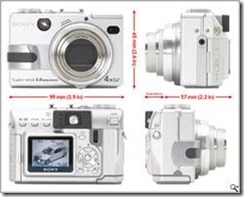 From the front the camera appears to be fairly conventional, although the lens does seem oversized for the camera body (large diameter lens elements normally means good). Around the back there is only limited space for your thumb to grip the rear where it rests naturally on the zoom lever.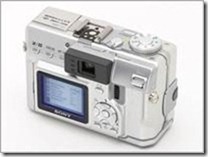 Final words
Take a look at the DSC-V1 and you'll want to take it home today!