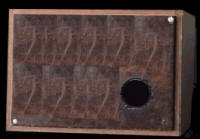 MM-SW1320S4 Small Bandpass Subwoofer
This is the first bandpass subwoofer I have built. It is a small enclosure subwoofer, which had 4 revisions.
This is the 4th version of the design. I built this to see how good a small bandpass subwoofer can perform.
It is equipped with a 13cm woofer that accepts up to 20 watts.
Frequency range is very good for its dimensions: 50Hz – 120Hz.