GC-MSMT Expansion Board?
On the Gigabyte's GA-Q87N specifications page, they tell us that mSATA modules can be used in the Mini-PCIe slot with the help of an GC-MSMP expansion board,
but no links are provided to this product, neither Google has any info on this expansion board.

Asked Gigabyte and waiting for a response, so stay tuned – will update soon!
UPDATE 02.04.2014 – Gigabyte's response #1
Thank you for your kindly mail and inquiry. GC-MSMP is a expansion card for MSMP to support a mSATA device. Without GC-MSMP, the MSMP slot can only support a mini-PCIe device.
What?! They copy/pasted this from the specifications page, so I further asked about where I can buy this product, where can I see a photo and specifications, any reference, a link..
Seems like Gigabyte eSupport is awful, and I can tell that I find their support platform registration process (Gigabyte "passport") awkward.
More study
My best guess is that GC-MSMP is just a riser board to make mSATA full-size mini-PCIe boards fit over the half-size mini-PCIe slot available on the motherboard.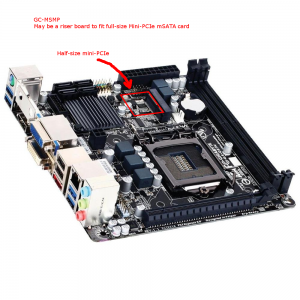 UPDATE 03.04.2014 – Gigabyte's response #2
Sorry we misunderstand your mail. Here is a photo of GC-MSMP. Please kindly contact our local distributor to purchase this expansion card. We are sorry for your inconvenience.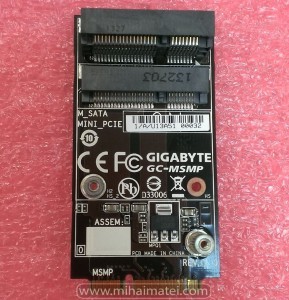 Seems like Gigabyte eSupport is on the right way, they sent me a photo of the actual product.